Gayton Trips
Upcoming Trips 2018/2019
---
Christmas Pantomime
This year we will be taking the children across the Federation to the pantomime at the Royal and Derngate, Northampton. Further details will follow.
---
Years 5 and 6 Residential March 2019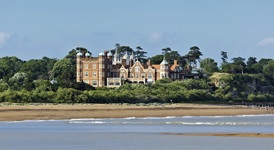 Current years 4 and 5 children are invited to attend a Year 5 and 6 residential in March 2019 at a PGL centre, Bawdsley Manor in Suffolk. The centre can be viewed at http://www.pgl.co.uk/en-gb/adventure-holidays/centres/bawdsey-manor-new
The cost of the residential is £300 per pupil which includes transport, accommodation, meals and activities. The cost of the trip can be paid via Parentmail in instalments as follows:
Deposit - £50 to be paid by 15th June 2018
1st Instalment - £50 by 15th July 2018
2nd Instalment – £50 by 15th September 2018
3rd Instalment - £50 by 15th October 2018
4th Instalment - £50 by 15th November 2018
5th Instalment - £50 by 15th December 2018
---
Year 3 Residential - Frontier Centre, April 2019
We have booked a Year 3 residential to Frontier Centre for a 1 night, 2 day stay at the centre at a cost of £110 per person. A deposit of £20 per pupil is required to secure a place with the remaining balance spread over 3 months. Payments can be paid via Parentmail. If you require assistance in paying for the trip please speak to the school office in confidence.
Deposit £20 – by 17th December 2018
1st payment £30 – by 31st January 2019
2nd payment £30 – by 28th February 2019
3rd Payment £30 – by 31st March 2019
During the visit the children will take part in various outdoor activities such as High Ropes, climbing, orienteering, a camp fire and many other exciting activities. For further information on the Frontier Centre please use the link below:
http://rockuk.org/centres/frontier-centre
---
Year 4 Bushcraft Residential June 2019
Federation Year 4 Bushcraft Residential to Boughton Woods. The residential will take place in June 2019.
The cost of the residential will be £188 per pupil which will include transport, accommodation, activities and all meals.
The trip is now on Parentmail and can be paid in the following instalments:
Deposit £38 to be paid by 17th October 2018
1st Instalment - £50 by 1st December 2018
2nd Instalment - £50 by 1st February 2019
3rd Instalment - £50 by 1st April 2019